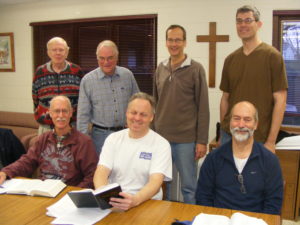 We have several opportunities to grow and deepen your faith through studying of the Bible.
Men's Bible Study: The Saturday morning adult Men's Bible Study at Redeemer Lutheran Church is a great way to increase your understanding of and appreciation for Christian scripture. Currently the group is studying the book of Malachi. The group meets on Saturday mornings at 7:30 am for one hour during the school year.
Each session provides a close reading of an individual book of the Bible. Participants learn not only about individual books of the Bible, but the application of the great truths of scripture to everyday life.
Get to know other men of the congregation, deepen your understanding of the Bible and renew your spiritual self.
Contact John Campbell with questions. You are welcome to join at any time.
Women Studies: Women of the church are invited to participate in either, or both, of the following Bible studies: Deborah Circle meets at The Fountains on the second Tuesday monthly at 9:30AM; or Mary's Circle, meets on the second Tuesday monthly, at 7:00PM in people's homes. Contact the church office if interested.